By inserting your email you allow to be contacted for our secret offers.
BEST RATE GUARANTEED

If you find a better rate (same period or accommodation) on another website, contact us.
EXCLUSIVE SPECIAL OFFERS
Find exclusive special offers dedicated to you.
25 YEARS OF EXPERIENCE AT YOUR SERVICE!

We offer you all the knowledge acquired over the last 25 years in Les2Alpes: ski and snowboard camps, sporting activities, skipass, how to reach the stations and much more…
7-14 et 14-21 january: Hotel 7 nights + skipass ski 6 days € 475 adults  & € 540 children 3-12 years old*
11-18 et 18-25 march: hotel 7 nights + skipass ski 6 days € 660 adults  &
€ 525 children 3-12 years old *
15-22 et 22-29 avril: hotel 7 nights + skipass ski 6 days € 600 adults  &
€ 540 children 3-12 years old *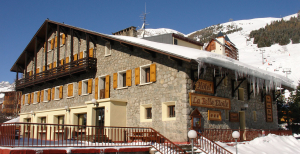 The Hotel La Belle Etoile is located in the centre of Les Deux Alpes and near to ski and snowboard slopes. With its tradition stone structure and its beautiful panoramic terrace with a view of the Muzelle, it's considered one of the most suggestive hotels in the area. The hotel offers a friendly and welcoming environment in which both summer and winter skiing fans can spend their vacations enjoying sports, relaxation and entertainment.
The hotel manages also the luxury chalet Faverot that can give hospitality up to 14 people. It is located in the very centre of Les Deux Alpes, in a quiet corner, near bars, shops, restaurants and teleferics and it is very close to the hotel. They are furnished in a tasteful, rustic style in wood and stone. Thanks to the interior design that perfectly combines the intimacy of the bedrooms with the spacious and comfortable setting of the dining and lounge area, the chalet is perfect solution for family and friends' holidays.
The Hotel La Belle Etoile, in addition to the rooms avaible in its structure, can intermediate with local real estate agencies to rent apartments for 2/9 people in the center of Les 2 Alpes.
Are you ready to join the most sportive european destination? How to reach the station?
Les Deux Alpes is not just skiing and snowboarding! Try the walks with snowshoes, climbing on the icefalls, snowmobiles, paragliding, ice skating, horse drawn sled and much more….
LES DEUX ALPES – EVENTS
05 – 12 December: Powder Week
12 – 19 December: Rise Festival
23 January: Night Snow Trail
05 – 12 March: Snow Zone
12 – 19 March: Unichamp
19 – 26 March: Snowfest
26 March – 2 April: Snowjam
18 – 22 April: Junior Foliz